Backdrops & Features
Flower wall canopy, backdrop and arch hire available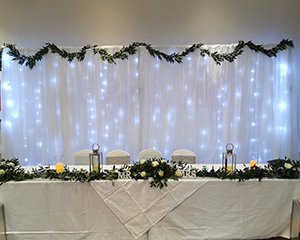 Top Table Backdrops
We can provide a number of size option backdrops to sit behind your top table and create the perfect setting, we can add coloured drapes to them, lights and also leaves or Wisteria as in picture. You can have twinkly lights and matching top table skirts too. 
Our 3m x 6m backdrop is available for £225 this includes twinkly lights.
(Delivery and collection charges  may also also apply starting from £25 dependant on location) 
We also have a matching twinkly skirt available from £35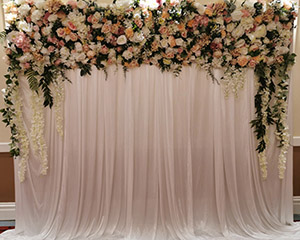 Flower Wall Canopy
Our flower wall canopy can be hired for £150, we can also add uplighters too for an additional £20 each, flowers can be changed to fit with your colour scheme to, this can create a great photo wall for all events and has been hired for weddings, Chistenings and birthday parties. 
(Delivery and collection charges  may also also apply starting from £25 dependant on location) 

Wooden Arch
Our Wooden arch can be hired for £125 with silk flowers included as per picture, we can also add fresh flowers too for an additional cost, we have alternative drapes to match most colour schemes too - please contact us for more information. 

(Delivery and collection charges  may also also apply starting from £25 dependant on location) 

More information »

;